'Tis the season, right? I've never baked a pie before, I'm the Cookie Girl. During the holidays, other family members would bring the pies, I would just take care of the cookies. But...I figured that a) I should get my first pie baked before the girls come and b) Mishu loves pies, especially apple pies so yup.
So here is the recipe. It's the Pillsbury one off of allrecipes.com, but I will share it with my pictures. :)
Here is the prep stage: Peeling and coring the apples: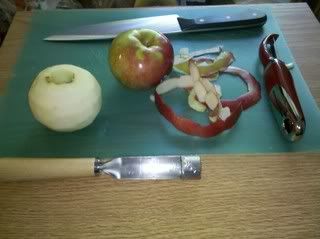 Then I had the pie crust. Yes, I did get the pre-made stuff.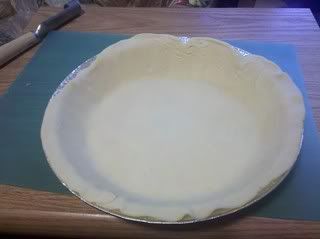 Here is the pie, pre-baking.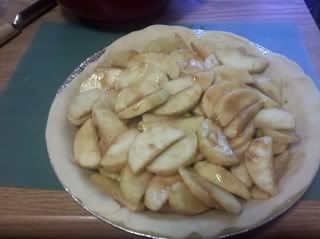 AAANNND here is the pie all done being baked. :)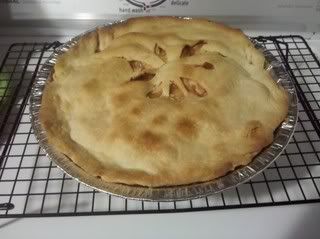 Here is your recipe:
Prep time: 30 minutes, Cook time 40-45 minutes, Cooling time: 2 hours.
Ingredients
Crust:
1 box Pillsbury® refrigerated pie crusts, softened as directed on box
Filling:
6 cups thinly sliced, peeled apples
3/4 cup sugar
2 tablespoons all-purpose flour
3/4 teaspoon ground cinnamon
1/4 teaspoon salt
1/8 teaspoon ground nutmeg
1 tablespoon lemon juice
Directions
Heat oven to 425 degrees F. Place 1 pie crust in ungreased 9-inch glass pie plate. Press firmly against side and bottom.

In large bowl, gently mix filling ingredients; spoon into crust-lined pie plate. Top with second crust. Wrap excess top crust under bottom crust edge, pressing edges together to seal; flute. Cut slits or shapes in several places in top crust.

Bake 40 to 45 minutes or until apples are tender and crust is golden brown. Cover edge of crust with 2- to 3-inch wide strips of foil after first 15 to 20 minutes of baking to prevent excessive browning. Cool on cooling rack at least 2 hours before serving.
Here's the link if you want it: http://allrecipes.com/Recipe/Perfect-Apple-Pie-3/Detail.aspx
The pie tastes great! I used Macintosh apples and the pie is good. A little tart but good. :D I took a picture of the finished product but I guess it didn't completely take and well...it was eaten quickly after! Maybe if we have a slice tomorrow I'll snap a picture.
PS it completely annoys me that when I adjust the size of the pictures on photobucket, it doesn't really show up that way. :p