I know it's been a while but I've been super busy. :)
I went to Chicago to see family and friends and my mom threw me an awesome baby shower. It was Dr. Seuss themed with a lot of emphasis on Thing 1 and Thing 2 from The Cat in the Hat. I was thrilled. I promise I will have more pictures soon but here are a couple pictures that I have so far:
A friend of ours made the diaper cake: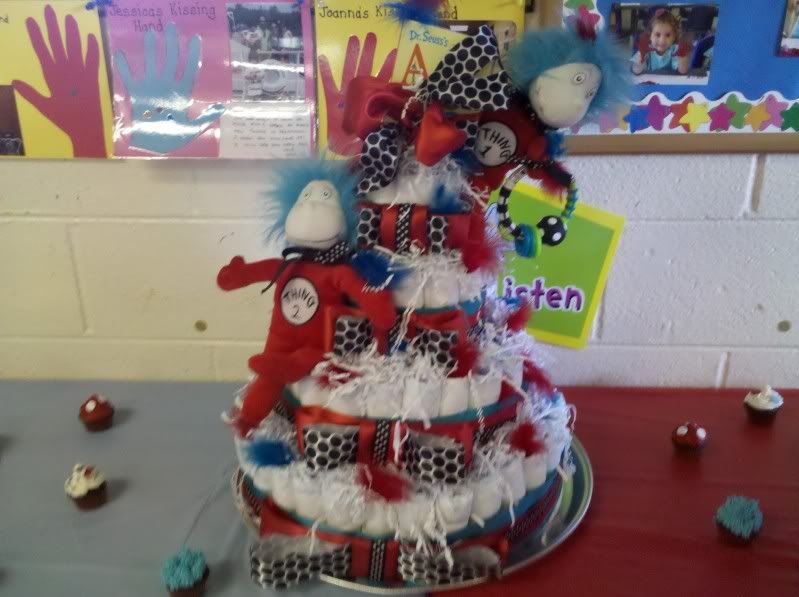 And here are some of the cupcakes that my mom bought for the shower: (These are from a local bakery in Skokie that I LOVE!
Sweety Pies Bakery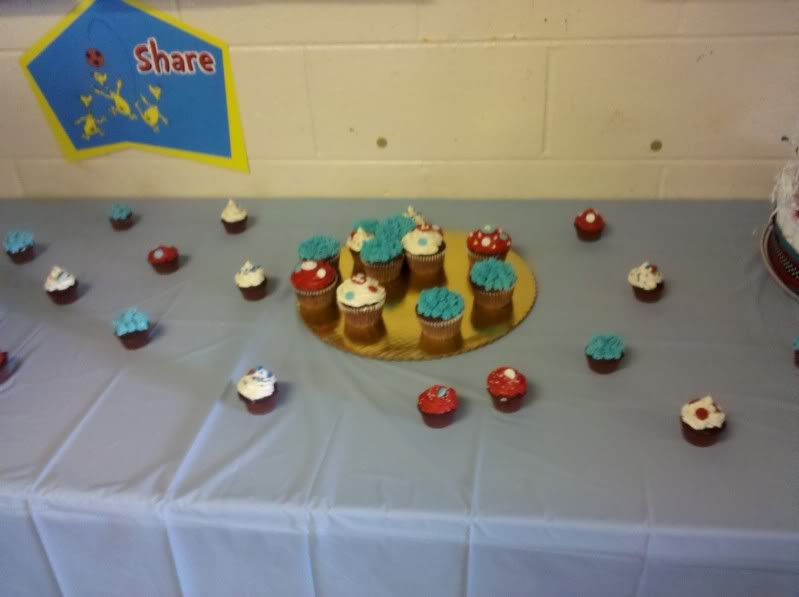 The cupcakes were red velvet (I LOVE!) and they were just to die for! There were only a couple mini ones left over, so needless to say...everyone loved them! I feel so blessed. We were given so much and so much great stuff for the girls! I had to put it all into storage for the time being until Mishu comes back. Honestly, right now, we don't have the room. We still have to get the house in order. There are boxes everywhere and we need to clean this place up before we can bring the baby stuff in here.
That brings me to the next thing. Mishu is *sigh* playing soldier in the middle of nowhere until sometime around the end of the month. I was able to have my friend Jessica (
It's a beautiful ride...
) and her husband unload my truck full of baby stuff into our storage room, but there is just soooo much that needs to be done around here that I need to wait for Mishu for one reason or another. I know this is minor in relation to the time he "could" be gone for a deployment...it's just that any time away sucks. There really is so much we need to get done before the babies get here.
And I will use that to lead me into the next subject: the twins! I'm getting bigger and bigger and I will show a picture again but I was getting more and more worried there for a little bit. Before Mishu left, I would have him feel for the babies all the time. I knew they were moving and what not but I just couldn't feel it all that much. Well, he would always feel Thing 1 but it was harder to feel Thing 2. A short time after he left, I started to really feel Thing 1 move, but again...I barely felt Thing 2 move at all. When I got to Chicago, my mom and everyone else (I honestly love the attention!) were feeling my belly and I think we got 2-3 kicks out of her the whole time. I was there Thursday evening through Sunday night. I get back to NC and again...I still barely feel her. I was getting anxious. I finally had the referral approved for a new OB and was just waiting for them to approve me and schedule me. It was taking some time so I mentioned to them my concern about Thing 2. They had me go in last night (I told them about Thing 2 earlier that morning) and they did an ultrasound and cervix check. Both of the babies looked good and Thing 2 was moving well, just for whatever reason it's not coming through to me. It did put my mind at ease though, and they were able to definitively tell me that there were two amniotic sacs (which the other OB office couldn't tell me one way or the other. ) My job isn't going to like it, but they have me coming in again this next Tuesday for a full ultrasound (1 hour or so) which they said I will be getting one of those for every "regular" appointment so that they can measure and track the babies. This made me happy because the other OB office
said
they would do this but never did it. I am also going in on the 25th for a "high risk" appointment. I asked about being/going on bed rest and I was told that bed rest would be talked about during this appointment. I am not liking the idea of bed rest but as I get further along, I see the need for it. My hips and hip/leg joints are really starting to hurt, especially late at night. The last 2 days I have been limping on one side or the other almost all day due to the pain. My lower abdomen is also feeling sore, more so towards the end of the day. I also talked to the doctor about how the babies are positioned and if it's possible to give birth naturally (without surgery). He said that the babies are in a "yingyang" position and that makes it pretty impossible to do a "natural" birth. He said it is too risky and explained the risks. So while I do NOT like the idea of a C-Section...I understand that it is almost positive that I will have one and I understand the reasoning behind it. Not just the "no, we don't do that and you are going to have a c-section" that I was told at the other OB. So it was basically the same answer, I'm aware of that, just handled with more tact and professionalism. Which makes it a much easier pill to swallow! I'm still crossing my fingers that Thing 2 will flip over and be head first but it doesn't look realistic. But hey, one can dream right?
And after much promising...here is the latest baby bump picture!